Whether you've known me for years or this is our first time working together, you'll soon come to understand an essential piece of information about me: how much I love coffee. You could say I consider myself somewhat of a coffee connoisseur. In fact, when I bought my own house, I wanted to make sure that coffee was within walking distance (you do not want me to drive before I've had my morning fix!). From working in Redwood City extensively, I have discovered a great coffee shop in every quadrant of the city. Redwood City has plenty to offer its residents, from a vibrant downtown district to a small-town feel. Thankfully for me (and you!), this lively city is also jam-packed with all sorts of cozy and quaint coffee shops—and I'm here to fill you in on a few of them! If you also consider yourself a coffee connoisseur, then you'll be sure to love these eight coffee shops. Read on to learn about some of my very favorite places to grab a cup of joe in Redwood City.
1. The Hub RWC

New to town and looking for the perfect cup of coffee? I strongly recommend heading over to The Hub RWC. Located in downtown Redwood, this chic building was once just a bar but has since become one of the city's most popular coffee shops. In addition to serving great coffee and lattes, you can also try their New Zealand-style hand pies. All of the pies are made in-store and created using high-quality ingredients. The Hub RWC makes its own syrups, including ginger, gingerbread, golden, and pumpkin spice (made with real pumpkin!). I suggest trying their pumpkin spice macchiato, but keep in mind this is a proper macchiato—not the Starbucks version. Top-notch customer service and a friendly barista are just another reason this spot is a favorite among locals. Right now, The Hub RWC is only open to-go due to COVID. However, once it is safe to do so, they will reopen their quaint outdoor and patio seating. Whether you try the authentic New Zealand pies or pumpkin spice macchiato, you won't be disappointed with your choice!
2. Philz Coffee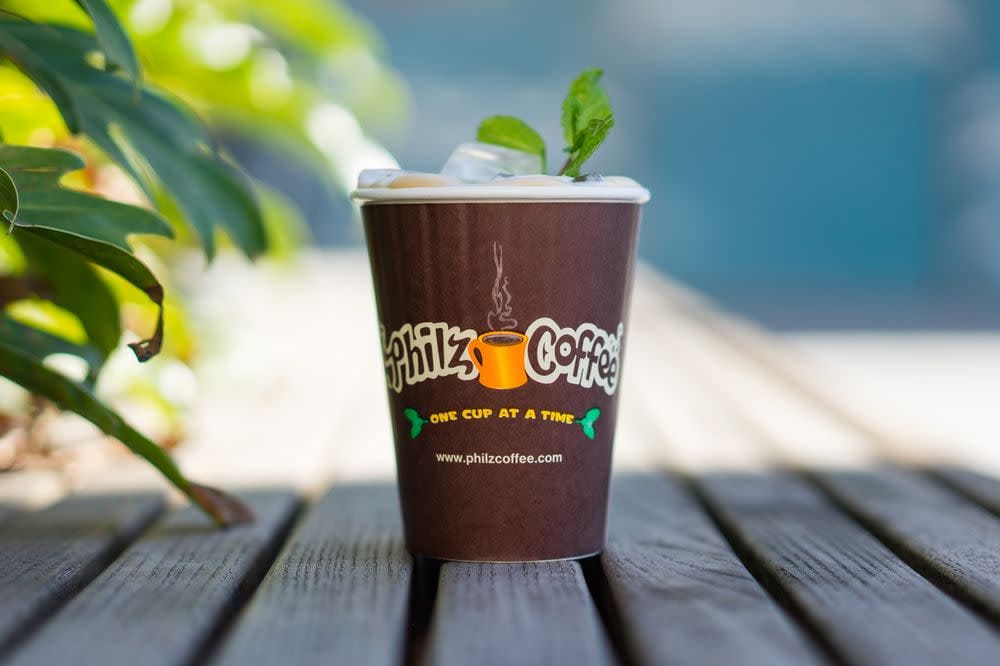 Credit: Philz
Philz Coffee
originated in San Francisco in 1978. Since then, this charming coffee hub has spread throughout the state and other parts of the United States. Now, Philz Coffee is proud to have locations throughout the Bay area—including one in downtown Redwood City. Everything is pour-over and made to order (no lattes here!). You can choose your blend, sweetness level, and amount of cream, resulting in a customized drink just for you. Philz also offers a small menu, including handmade foods, hot breakfast, and baked goods. If you're a fan of avocado toast, then consider having it served with the Palo Alto Firefighters Hot Sauce—a decadent pairing. Some of my favorite orders at Philz include a rosé coffee made with oat cream or an iced gingersnap, lightly sweetened. You can even try different brews or grab a bag of beans for home brewing. In addition to stellar customer service, this coffee shop is dedicated to sustainability and responsible sourcing. It's a cup of joe you don't have to feel bad about!
3. Coupa Cafe
Looking for a place to enjoy a delicious breakfast or grab a cup of coffee on the run? Then check out
Coupa Cafe
! This local cafe and coffee shop opened in 2019 in the Marston Building on Main Street in Redwood City. Its signature red walls and relaxing atmosphere makes this the perfect option for sipping coffee or enjoying a tasty meal. The large menu encompasses breakfast, lunch, and dinner options, as well as an extensive coffee menu. Coupa Cafe values using local, organic, sustainable, and family-run farms in everything they make. If you're ready to try out this good, then I suggest browsing through their online menu and selecting a bag of beans. (Plus, there's free shipping, so it's a win-win!) Right now, outdoor dining is available, as well as options for pick up and curbside. If you want to make it even easier, I suggest having it delivered right to your doorstep. Easy to utilize, the delivery enables you to have coffee or breakfast enjoyed from the comfort of your home.
4. Emerald Hills Cafe and Roastery
Nestled at the base of Emerald Hills,
Emerald Hills Cafe and Roastery
is another well-loved spot among locals. This chic coffee shop globally sources coffee from Central and South America, Africa, and the Asia Pacific region. The coffee is then roasted locally in small batches in the Redwood City cafe. In addition to filling the shop with the aroma of fresh coffee, this also allows customers to benefit from the specialized varieties and characteristics of the signature coffee. Emerald Hills Cafe and Roastery has a mission to keep it simple and focus on the flavors—and it pays off. In addition to its stellar coffee options, this local shop is loved for its welcoming atmosphere and talented baristas. It's the type of place where you often run into friends and neighbors or see people sitting and chatting outside on a sunny, non-COVID day.
5. S'Bastians Coffee
Credit: S'Bastians Coffee
S'Bastians Coffee
is located on the outskirts of the Woodside Plaza neighborhood. This hip neighborhood coffee joint offers a variety of options, including pour-over, siphon-brewed coffee, loose leaf tea, and some great latte art. If you're feeling adventurous, consider trying the Mexican Mocha and Sunshine Gibraltar specials. If coffee isn't your thing, don't worry—there are other options here, too! There is a wide selection of herbal-decaf, green, and black loose leaf teas. If you're driving, please note that there is ample parking available in the adjacent lot, as well as street parking in the neighborhood. With large windows and plenty of indoor seating, S'Bastians provides a sunny environment to start your day or catch up with a friend. The mornings are often busy, so be sure to budget a little extra time if you're satisfying your coffee craving before work.
6. Red Giant Coffee
Since being established in 2014,
Red Giant Coffee
has become another favorite among locals in Redwood City. This modern nook offers pour-over coffee, espresso drink, and a tantalizing display of pastries. Some of the most popular drinks include cold brew nitro, Nutella latte, lavender latte, and mocha with TCHO dark drinking coffee. In addition to a plethora of exciting drinks, Red Giant Coffee also serves mochi donuts and mochi muffins. The shop is also located close to the CalTrain station, making it a great option if you need to grab a coffee and go. Parking can be found behind the building. Indoor seating is limited, so I recommend
grabbing your cup of joe to-go and strolling over to the Courthouse Square. From a cozy atmosphere to the friendly staff to impressive latte art and delicious drinks, Red Giant Coffee has it all.
7. Connoisseur Coffee Company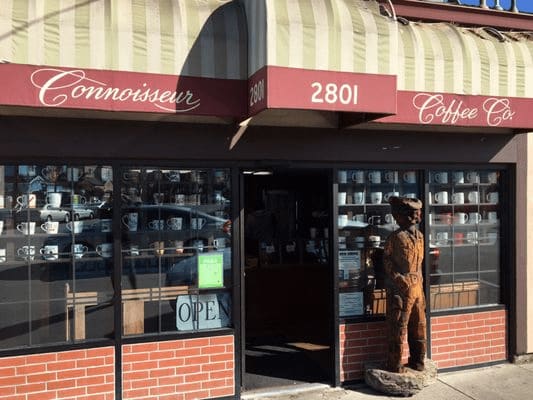 Located on the edge of the Fair Oaks neighborhood,
Connoisseur Coffee Company
has been a part of the community for over 30 years. It is located in a historic, industrial building, resulting in a chic atmosphere. This urban coffee house serves small-batch coffee from around the world. They also roast their coffee in-house, filling the entire store with the fragrant aroma of coffee (a truly heavenly smell). Those who do not like coffee can choose from the wide selection of available teas. The flavored coffees include creative flavors, such as cranberry cream, tiramisu, and chocolate macadamia creme. The colorful array of teas encompasses everything from apricot tea to cinnamon orange. The bags of beans and tea are reasonably priced, making this another reason that people appreciate this spot. If you are unsure what to get or need recommendations, the friendly staff will be able to answer your questions about different roasts and bean origins. There are plenty of souvenirs sold here as well, including unique coffee mugs and coffee-making accouterments.
8. Coffeebar
Established in 2010,
Coffeebar
is inspired by coffee bar Italian culture. Coffeebar is a chain that is new to Redwood City. As a chain, Coffeebar is not at the top of my list. However, they serve delicious coffee, so it's worth mentioning. Coffeebar serves more than just a regular cup of joe. Instead, Coffeebar is a radically inclusive Italian cafe that serves everything from your morning espresso to your evening glass of wine. This local shop—located on Broadway Street—prioritizes hospitality, which is evident in the warm and welcoming environment. In addition to stellar customer service and talented baristas, Coffeebar has a diverse menu with something for everyone. And that's not all that this coffee hub has going for it! Coffeebar is dedicated to emphasizing sustainability, even going as far as to use paper cups that have 40 percent less plastic. It's these small steps that are making a large impact. Additionally, the coffee is ethically sourced and hand-roasted, ensuring only the best.