Photo courtesy of Baylands Nature Preserve
Make yourself at home in sunny and welcoming Palo Alto! This vibrant city has an amazing combination of neighborhoods and business districts, with plenty of restaurants, shopping centers, theaters, and outdoor spaces. Renowned for its technological innovation, this Silicon Valley city is the home of some of the world's biggest tech companies and Stanford University.
With its number of gorgeous houses for sale and prime real estate, it's no wonder Palo Alto is a desirable place to call home. Enjoy this beautiful city by exploring its parks and local nature scene. Gather your loved ones and spend the day out in the Bay Area sunshine!
Foothills Park
Until last year, Foothills Park was exclusively accessible to Palo Alto residents, but moving forward this spectacular community amenity can be enjoyed by all. Foothills Park holds a special place in my heart because my dad and I both attended Foothills Day Camp when we were young. I still have fond memories of canoeing in the lake and catching my first fish — of course, I released it! With overnight camping trips, capture the flag games, a sprawling interpretive center, and plenty of room for birthday parties and family gatherings, Foothills Park is a Palo Alto staple.
Mitchell Park
With its playful and fun-loving atmosphere, Mitchell Park is beloved for its highly popular "Magical Bridge Playground." Officially opened to the public in April 2015, the Magical Bridge Playground is an amazing feature for the whole community and is celebrated as one city's most inclusive amenities. With its handicapped access, innovative design, and creative structures, a day at Mitchell Park promises hours of enchantment for all who come here.
Mitchell Park has tennis courts and athletic fields that all ages can enjoy! Book a time slot and enjoy an exciting game of tennis or baseball with your family and friends. Bring a picnic lunch packed from home and finish your workout with a delicious meal. Plus, this green space is also the perfect spot for a brisk morning run before work.
Let's not forget my favorite event of the year. Mitchell Park hosts the annual Palo Alto Chili Cook-Off, which brings live music, face painting, a children's train, and plenty of food and drinks vendors.
Whatever you choose to do, you're certain to discover a fulfilling way to enjoy your time here.
Cornelis Bol Park
Cornelis Bol Park, often shortened to Bol Park, is a 13.8-acre natural haven. There are so many exciting things to do here — trek the park's variety of trails, or spend the day with the kids and explore the park's wonderful playground together.
From Bol Park's (currently under renovation) native plant garden to the donkeys who occasionally come to visit, you'll discover plenty of treasured memories here. Take a walk along the park's beautiful stretch of undeveloped meadow and enjoy the shade of the nearby trees. Whatever you decide to do, you'll be glad you spent the day in nature here!
El Palo Alto
El Palo Alto Park is the home of "The Tall Tree" which inspired Palo Alto's name. Believed to be over 250 years old, this famous tree represents the strength and solidarity of Palo Alto's community. Furthermore, it's a prominent local landmark and one of the key symbols of the city. The Tall Tree — also known as Palo Alto in Spanish — carries a diverse and resilient history, much like the people of Palo Alto themselves. Swing by this unique park during the afternoon!
Peers Park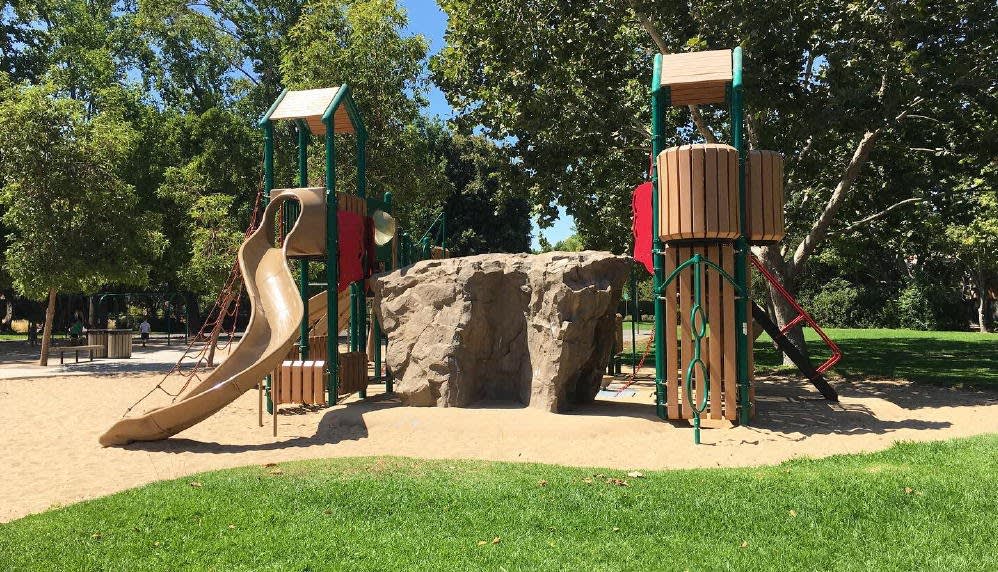 There are many things to love about Peers Park, but it's best known as one of Palo Alto's most dog-friendly parks. With its two enclosed dog runs and plenty of canine amenities, you'll have no problem bringing your beloved pup for an active day of fun! While here, you can also play a competitive game on the tennis court, experience the climbing wall with your friends, or spend time with your kids as they explore the jungle gym. Perfect for frisbee games, youth soccer, and all kinds of recreational activities, it's no wonder Peers Park is a local favorite. You'll often find birthday parties being hosted here!
Spanning 4.7 acres, Peers Park features open and grassy spaces with an assortment of exciting amenities. Named after Mayfield business leader Alexander Peers, this park is home to gorgeous redwood trees, basketball courts, and top-notch picnicking features.
Eleanor Park
With its vibrantly-colored playground structures, wide looped sidewalks perfect for walking, and a variety of community gardens, Eleanor Park is a great place to make special memories with your kids. In fact, it was the first park I ever went to as a child! Spend your weekends exploring the grassy knolls, enjoying bicycle rides on the trails, and eating delicious picnic lunches together.
From the park's many open spaces to its soccer fields, there are so many fun and exciting ways to spend the day here. Named after Eleanor Pardee, who died tragically young in 1896 and whose mother deeded the park's property in her memory, this 9.6-acre park features wonderful fixtures such as BBQ grills, a multipurpose concrete bowl, and playgrounds. Today, this park has a relaxed feel to it, perfect for exploring with the family!
Rinconada Park
A wonderful place to spend a Sunday afternoon, this city park spans 19 acres and offers a plethora of recreational opportunities. Surrounded by magnificent redwoods and oaks, a walk through Rinconada is a great way to experience the breathtaking nature native to Northern California. With its friendly handicapped access, picnic tables, and playgrounds, it's a fun place to take your loved ones for the weekend.
Take advantage of the on-site BBQs and enjoy a delicious grilled meal together. Or, how about playing a riveting game of tennis on the courts? On the north side of the park is the Junior Museum and Zoo, where your family can experience meerkats, flamingos, and science exhibits galore. If you stop by, you'll see my childhood tortoise! I donated it to the zoo when I was a kid, and it still lives there today.
Rinconada Park is also the site of the Lucie Stern Community Center and Palo Alto's public swimming pool, and it connects to Palo Alto Children's Library, and the Lou Henry Hoover Girl Scout House. With so many ways to have fun, you certainly won't get bored at Rinconada Park. Grab your sunscreen and come here for an amazing day outside!
Gamble Garden
Whether you're seeing someone new or are making special time for your beloved, try the elegant Gamble Garden for your next date. This historic two-acre property encompasses a rose garden, herb garden, and a diverse selection of eye-catching vegetation. Whether you're a plant lover or simply enjoy the beauty of nature, you'll be glad you chose to spend the day perusing Gamble's exquisite gardens.
Here, you can immerse yourself in the wonders of Mother Nature. Enjoy the rose garden's striking views, breathe in the herb-scented air, and admire the park's vibrant greenery. From the beautiful trellises to the park's bubbling water fountains, you'll discover plenty of amazing sights. Make a stop at the Main House to learn more about the local history or even book a class such as mushroom foraging in advance.
Gamble Garden offers a wonderful way to spend quality time with your family and make special memories together. Plus, the stunning rose gardens are a beloved spot for wedding ceremonies, and you can't miss the distinct romantic atmosphere. After all, what better way to soak up the season than to immerse yourself in the outdoors with those you love?
Baylands Nature Preserve
Calling all nature lovers! Are you ready to hit the trails and explore the great outdoors? Slather on the sunscreen and come to this beautiful preserve. Known as the largest piece of uninhabited land in the San Francisco Bay Area, Baylands Nature Preserve is a favorite among locals and visitors alike. Situated near Mountain View and East Palo Alto, this park is made up of 1,940 acres.
Baylands' untamed marshland is a beauty to behold! It's easy to see why this preserve attracts visitors of all ages. From its top-notch athletic center to the lovely duck pond, there are many exciting ways to enjoy the day here. If you're in the mood to go out on the water, then you're in luck — sailing is just one of the many exciting recreational activities available here.
Play a round of golf at the courses, pay a visit to the pristine Interpretive Center for some riveting history, or take a walk on the many paths scattered throughout the preserve. Along the way, pause and admire the enchanting scenery. A walk through the paths is the perfect opportunity to watch for different bird species or to snap some photos. What are you waiting for? Grab your water bottle and spend your day at the Baylands Nature Preserve!
If you're looking for Palo Alto homes for sale or Silicon Valley real estate, contact me today. I will walk you through the process from start to finish, making sure to find the place that's right for you. With years of experience in the real estate industry and detailed knowledge of the Bay Area, I can help you find a house that truly feels like your perfect dream home.